Small business owners need to market themselves and their companies if they want to become successful. But skillful marketing involves choosing effective advertising channels without busting the budget. While there is no shortage of alternatives available for marketing a company, the challenge is figuring out what works best for a particular business and its target audience.
One marketing option that is often overlooked is a custom logo floor mat. It can be strategically placed outside a business's front door so it is clearly visible to passersby. Modern printing and design processes enable fairly complex logos and lettering to be transferred cleanly onto the mat, which results in a high-quality image. But perhaps the biggest marketing benefit of a custom logo floor mat is that the company only pays a one-time cost and then owns it forever, unlike many other marketing channels which much be funded regularly. Plus, the logo mat is durable, long-lasting, and easy to maintain. It eliminates the need for purchasing a regular floor mat to keep workplace floors clean and moisture-free.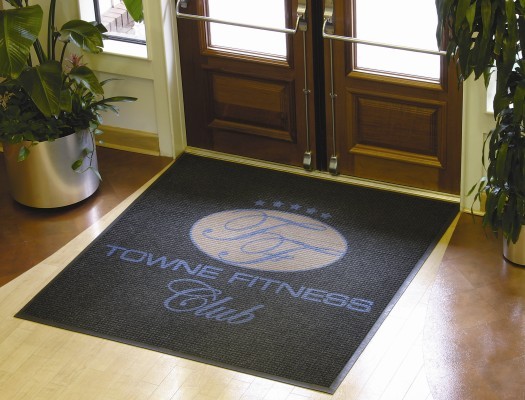 The cost of a custom logo mat depends on its size and type (but not the complexity of its image). Prices start at around $145 for the smallest mats, and a 4 foot by 8 foot mat can be purchased for between $350 and $450. Larger mats will cost more, but the most a company will pay for a non-custom sized mat is less than $1,500 for a WaterHog Logo Inlay mat (although custom sizes are available).
With this price range in mind, let's compare custom logo mats with more traditional marketing channels:
Newspapers. Depending on the paper's coverage area, business can run a small ad for a year or a large ad for a week. But print newspaper readership continues to decline, and its distribution may be narrower than a company's customer base.
Magazines. They're more durable than newspapers and can run ads weekly or monthly depending on how often each issue comes out. But companies must pay more for color advertising, and many magazines only serve niche markets.
Radio. A basic 60-second spot can be played several times over a week or month. But this option can become expensive in medium or larger markets; plus, many people have given up radio altogether in favor of commercial-free alternatives.
Television. There are dozens or even hundreds of channels to choose from. However, the costs to even produce the ad (much less buy airtime) can be steep; and nowadays, DVR owners tend to skip TV ads anyway.
Flyers. This is an inexpensive way to print up thousands of advertisements. There will also be costs incurred to distribute the flyers (by workers, through the mail, etc.), any a large number of them are discarded without being read.
Billboards. Outdoor advertising is prominent and colorful and can remain in effect for a long time. But billboards can be pricey, and they tend to limit their exposure to the people who make the same commute every day.
Trade shows or conventions. Banners and displays at these gatherings can reach a captive audience. However, this is sort of a "one-shot" opportunity, and unexpected low turnout can erode its effectiveness.
Internet and mobile devices. This is the new wave of marketing that can be produced cheaply and reach a wide audience. Unfortunately, the jury is still out on how effective this channel really is in bringing in more sales.
Certainly, it wouldn't be wise to allocate 100 percent of a company's marketing budget toward custom logo floor mats. When you compare the cost-effectiveness of logo mats against many of the other ways that marketing dollars can be spent, though,  it's clear that they can be a viable part of a business's overall marketing strategy. Ultimate Mats has the experience and expertise to create a logo mat that is eye-catching and aesthetically appealing without straining your marketing budget. Give the folks at Ultimate Mats a call today!
Visit Chris on Google+