Many people like to display attractive pieces of art on the walls of their home, office, or shop. But wouldn't it be neat if there was some interesting art sprucing up your floor?
That's easy to do – with an eye-catching logo mat from Ultimate Mats!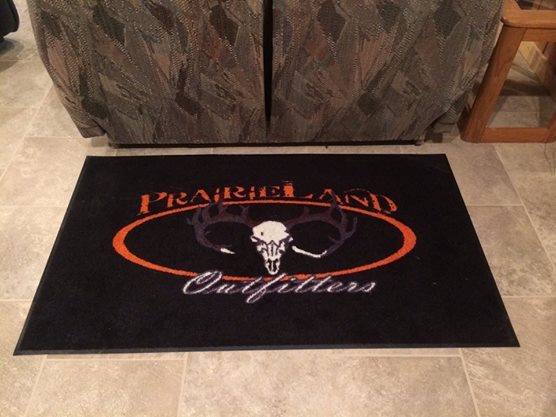 An actual logo mat ordered by an Ultimate Mats customer.
Ultimate Mats' state-of-the-art digital printing process can take almost any image and transfer it onto a high-quality floor mat. You can use a photo, drawing, or design of your choice to be proudly displayed on an entry, interior, or exterior mat.
If you are into art, you can even use imagery that's especially appropriate for being viewed from above. For example, imagine a logo mat depicting…
A manhole. If you like the "urban chic" look, put a realistic-looking manhole on your mat – and even add your city's name to the lettering on it.
Burning coals. Ideal for a long runner-type mat. Some hot coals in the middle of it may cause people to jump over them.
A deep pit. If the image is convincing enough, you might be surprised how leery people would be from stepping onto the mat.
A bear trap. For outdoorsy types who might enjoy their friends' slight hesitation before placing their foot over the bear trap.
A "broken" mat. Put a "hole" in the middle of the mat that matches the underlying flooring or carpet. People may think it's a tear or run and try to avoid it.

Whoa! Look out!

A view from atop a high building. This could give the impression of stepping off "into space" from hundreds of feet up.
An open-mouthed crocodile emerging from the swampy depths. Seeing a menacing croc ready to tear into its next meal could send a shiver down a visitor's spine.
A sign that reads "Step Here to Open Door Manually." Get it? People may mistake "manually" for "automatically" and just stand on the mat for a few seconds.
A scale. You could even embellish the image of a bathroom scale by having it read "Too Much" or appear to be smoking.
A rake. For a long mat, put a rake on it with the business end nearest the door. It would provide the illusion of almost stepping on the end and having the pole pop up and hit you (like in cartoons).

Of course, this might make guests dizzy.

An optical illusion. Speaking of illusions, grab one of those dual-colored spirally images that look like they're moving even when perfectly still.
A puddle. Not only is it artistic, but it's a bit ironic given that floor mats are supposed to protect you from puddles of moisture.
Water with a reflection of a falling piano. Imagine seeing your reflection in liquid along with the piano that's above you traveling toward the ground at a high rate of speed.
A view on a tightrope over a canyon. See if your guests channel their "inner Wallenda" and try to balance on the imaginary rope.
An ice fishing hole. The perfect wintertime entry mat. You could even have some fish swimming around in the water as well.
If any of these ideas appeal to you, or you have an even better one for your business or residence, check out the selection of logo mats on Ultimate Mats' website and see how easy it is to get a custom-made digitally-printed logo mat of your very own. Not only will it look great and add interest, it's less expensive than investing in fine art!
Visit Chris on Google+