An "all-inclusive cruise vacation. A "relaxing Caribbean cruise." "Cruising through the open water" of a crystal-blue ocean.
Those phrases are commonly associated with the fun and exhilarating experience of sailing away on an ocean liner to some exotic locale.
However, there are some less uplifting phrases with the word "cruise" in them. Like "no pleasure cruise." A "shakedown cruise." And "cruisin' for a bruisin'."
These terms might describe negative experiences that travelers may have had on cruise ships – like, say, those who were injured in a slip-and-fall accident while on board.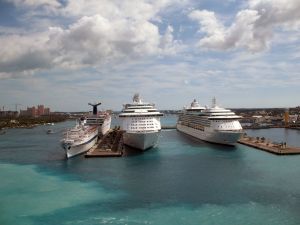 Wouldn't you want to be on one of these babies right now?
Falls, Cruises Go Together Like Beaches, Ocean
Believe it or not, slips and falls are not uncommon on cruise liners. According to the Centers for Disease Control, between 12% and 18% of trips to cruise ship infirmaries are due to onboard injuries, many of which are sustained from falls, trips, or slips. In fact, these mishaps occur so frequently that some plaintiff's attorneys even specialize in slip-and-fall litigation against cruise vacation providers. As with slip-and-fall lawsuits on dry land, these cases can potentially cost these companies millions of dollars in damages – not to mention the immeasurable loss in revenue that may come from the resulting negative publicity.
There are several reasons why slips and falls tend to occur on cruise vessels. The most obvious one is the rocking motion of the ship itself, especially in moderate or rough seas. After all, it's relatively easy for passengers to lose their balance if they aren't used to walking on a moving ship. Also, there are plenty of wet surfaces on a cruise ship (such as pool decks, showers, and spas) on which people frequently walk without shoes; thereby heightening the chances of slipping. Finally, passengers are more likely to become disoriented due to their lack of familiarity with the ship and/or excessive alcohol consumption; and this confusion sometimes contributes to a slip-and-fall accident.
Cruises are all fun and relaxation until somebody slips and falls.
Falls, Cruises Common Among Seniors
In addition to unfavorable conditions, the likelihood of slips and falls is higher on cruise ships simply because of the prevalence of a certain demographic: senior citizens. The CDC notes that more than one out of every four passengers on a cruise liner is over 60 years old, and many of them may be on prescription medications that can have an effect on their motor skills or balance. The agency also reports that falls are the leading cause of nonfatal and fatal injuries to adults 65 years and over, so it's easy to see why slips and falls on cruise vessels are fairly widespread.
Avoiding Falls on Cruises
So how can a cruise ship company minimize the risk of slip and fall accidents on their vessels? By adopting many of the same practices found in land-based businesses across the U.S. These include cleaning flooring surfaces regularly, placing warning signs near potentially hazardous areas, and placing floor mats in areas which may be prone to moisture or a loss of balance.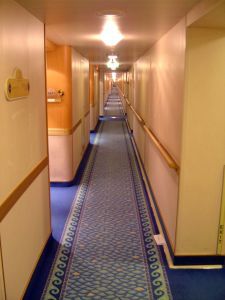 Handrails in hallways are another good idea.
Implementing these and other preventative measures not only protects cruise vacationers, but it also sends a message that the cruise liner is committed to keeping their guests safe and sound. And this peace of mind can significantly help passengers relax and enjoy an exciting cruise vacation.
Written by Chris Martin
Visit Chris on Google+