Ultimate Mats offers a wide variety of floor mats for your home or business. There's the thirsty WaterHog entry mat or high-quality interior mats like the ColorStar and Tri Grip mats. There's also the hard-working SuperScrape mat that scrapes away dirt from footwear, as well as the Hog Heaven anti-fatigue mat designed to help hard-working people. You can even purchase a logo mat with a logo, image, or message of your choice.
But one thing that all of these mats have in common is that they function most effectively when periodically cleaned. And what's the quickest way to clean your mat? Just shake it!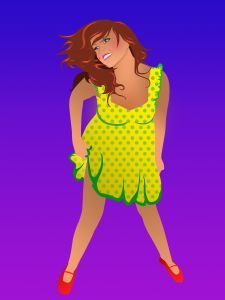 We mean the floor mat. But that works, too.
Here are some answers to some questions you may (or may not have) about shaking your floor mats.
How often should you shake your floor mats?It really depends on how much foot traffic your mat sees. For a floor mat around the home, at least once per week is a good rule of thumb. For businesses, each entry mat should be shaken at least once daily, and two or three times per day on busy days.
Where specifically should you shake your mats?Obviously, this shaking shouldn't take place near where the mat sits, meaning that opening up the door and shaking it is insufficient if you want to keep your floors clean. Suggested spots are in a parking lot, by a trash dumpster, or in a patch of grass.
What weather conditions should you be aware of while shaking mats?This isn't brain surgery. Don't shake a mat into the wind, or the dirt and dust will get blown back in your face. And don't shake a mat in rain or snow. Obviously.
What's the proper technique for shaking floor mats?Pick up the mat by its opposite edges and move your arms back and forth to get some "wiggle" in the mat. Do this for at least 10 to 20 seconds. Next, set the mat back down (not in its original spot) and sweep it briskly to remove the loosened dirt. Then grab the mat by the other pair of edges and shake it again in the same manner.
The mat should look this while you're shaking it.
What should you wear while shaking a floor mat?If you have to deal with customers or be in public after shaking the mat, be sure to wear an apron so the particulates and dust don't end up on your clothing. If you are highly susceptible to allergens or you are in the midst of a heavy allergy season, it may be wise to wear a mask so you don't inhale pollen, dander, or other irritants into your nose and mouth.
What type of music should you listen to while shaking the mat?Anything that's upbeat and fun. Common recommendations include Harry Belafonte's "Shake Senora", "Shake Your Booty" by KC and the Sunshine Band, "Shake Your Body (Down To The Ground)" by the Jacksons (or maybe you prefer Justin Timberlake's version), or perhaps the classic "Hippy Hippy Shake" by the Swinging Blue Jeans. Or you could just stick with the Elvis Presley classic "Whole Lotta Shakin' Goin' On." All of these tunes are guaranteed to inject a little extra vigor into your floor mat shaking duties.
What flavor shake should you get after you're finished shaking your floor mats?That's completely up to you. But you can't go wrong with chocolate.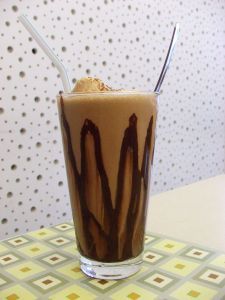 Yum!
Written by
Visit Chris on Google+