Just when you thought that you saw all of the crazy stuff that was out their on the Web, now comes a bunch of videos of people dumping ice and water on their heads and bodies.
What has grown to be known as the "Ice Bucket Challenge" has gone ultra-viral across the globe. And not just "regular" people are doing it, but athletes, celebrities, politicians, and other high-profile individuals are also braving containers of icy water and posting their efforts on social media.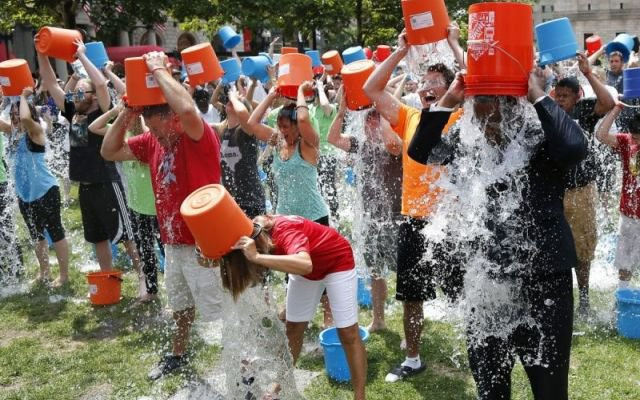 The more, the merrier – and wetter!
So why are all of these people choosing to get wet and cold?
This trend has more to do with the hot summer weather. There's actually a point to all of this craziness – and it's rooted in a worthy cause.
How the Ice Bucket Challenge Began
The origin of the current Ice Bucket Challenge can be traced back to a man named Pete Frates. While the former Boston College baseball player certainly didn't invent the practice of pouring cold water on top of people, he did marry this idea with the notion of raising money and awareness for the affliction from which he suffers.
You see, Frates has amyotrophic lateral sclerosis, which is more commonly known as ALS or Lou Gehrig's disease (from the name of the baseball player who also suffered from it). ALS gradually eliminates the ability of people to control their muscles, which in turn impacts their speech, respiration, and other important bodily functions. People who are diagnosed with ALS generally only live for another two to five years. There is one drug which can extend the lifespan of ALS patients for a few months, but there is no known cure.
Details About the Ice Bucket Challenge
Here's how the Ice Bucket Challenge works: a person who volunteers (or is nominated) fills a container full of water and/or ice. On video, the individual states his/her intention to accept the Ice Bucket Challenge, and then nominates three (or more) other people to also accept the challenge within 24 hours. After the intrepid soul douses himself or herself with ice water, he or she donates $10 to the ALS Foundation. Anyone can elect to forgo the wet and cold experience altogether by simply donating $100 to the charity (all donations are accepted here).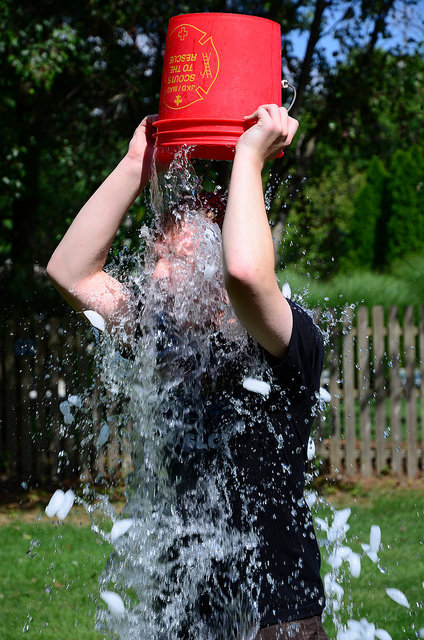 Soaking and shivering for a good cause!
The ALS Foundation is an organization dedicated to not only searching for a cure for the disease, but also helping to improve the quality of life of current ALS sufferers. As of late August, the ALS Foundation has raised over $53 million from donations related to the Ice Bucket Challenge.
Ice Bucket Challenge Tips
Haven't taken the Ice Bucket Challenge yet but want to give it a try? Here are some suggestions to help you pull it off:
When choosing a container to fill with ice or water, limit yourself to a construction bucket or a small "Igloo" cooler. Anything larger than that will require at least two people to lift.
Water and ice are heavy. Practice lifting it once or twice before you try and dump it over yourself.
It is strongly recommended that you complete the Ice Bucket Challenge outdoors, preferably on grass or pavement. Avoid slippery surfaces like decks, docks, or poolsides.
If you are staying indoors, wear flip-flops or other non-slip shoes and stand in a shower or bathtub. It's probably a good idea to put a thirsty floor mat on the bathroom floor to catch any stray water or ice cubes.
Don't have another person dump the water on top of you from a balcony, platform, or roof. He or she is likely to drop the container itself on your head, which will hurt. A lot.
Any video recording device should work. But don't spend a couple of minutes talking on the video – nobody wants to hear you orate. State your case, nominate your people, and dump.
Enjoy yourself! Ignore the fact that you will soon be wet and cold for several seconds. If you act like the Ice Bucket Challenge is an obligation and not an adventure, it sort of defeats the purpose.
Visit YouTube for some great videos of the Ice Bucket Challenge
It's a great cause and a lot of fun – so if you plan on embarking upon the Ice Bucket Challenge, good luck!
Image credits: Flickr (slgckgc), Flickr (Hot Gossip Italia)
Written by Chris Martin
Visit Chris on Google+