Okay, so someone slipped and fell at your business today. The person looked okay, didn't need an ambulance, and left on his or her own. You and your staff were polite, apologetic, and helpful; and there was every indication that the whole thing would be forgotten by tomorrow.
So you don't have to worry about being sued. Right?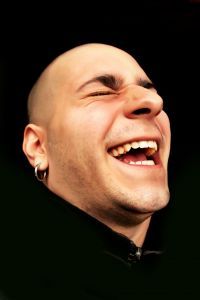 "HAHA! That's a good one!"
Not true at all.
Slip-and-fall victims file lawsuits even if they don't require immediate medical attention. Many times, these suits are filed months (or even years) after the original incident. And no matter how unfair you think it is, you still have to respond to the lawsuit and defend yourself.
Real Slip-and-Fall Lawsuits
Here are a few examples of slip-and-fall lawsuits filed around the world just within the last few months:
On June 27, a woman's fast-pitch softball league in Madison County, Illinois was named as a defendant in a lawsuit field by a woman who slipped and fell in muddy conditions. Terry L. Meyers claims that she was there at the softball fields in June of last year to watch her daughter when she fell on the way to the restroom. Meyers, who is seeking at least $100,000 in damages, claims that the league should have postponed tournament play due to the inclement conditions.
On July 14 in Gretna, Louisiana, a woman sued both a shopping center and a yogurt stand after she allegedly fell in some running water on a walkway in July of 2013. Shannon Arroliga filed suit against both Ted's Famous Frozen Yogurt and the owners of the Lakeside Shopping Center, citing injuries she suffered to her wrist, back, pelvic area, and ankle. Her suit claims the defendants failed to remove material from the floor and provide proper medical care.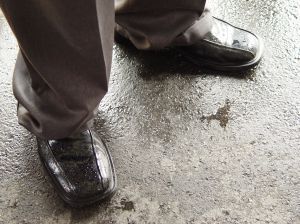 If that floor's even a bit wet or dirty, it could lead to a slip-and-fall lawsuit.
The legendary rock band KISS has been named in a lawsuit filed by a security guard who worked one of their shows two years ago. This story from September 3 says that Timothy Funk was hurt after slipping on some wet confetti at the venue in Noblesville, Indiana. The band usually complements its closing number by firing confetti into the crowd, but Funk's suit claims that the defendants took hoses and sprayed water on and near the stage in a "foolish and reckless manner," which led to the slip-and-fall accident.
The Mail Online reports that Woolworth's in Australia has been sued by a woman who claimed to have suffered serious injuries after slipping and falling on a grape inside a Tewantan store. The story from September 15 tells how Andrea Downie claims that she was shopping when she fell in the produce section, which not only injured her back but also caused an existing post-traumatic stress disorder condition to flare up. Downie says that Woolworth's failed to keep the floors clean or place floor mats in order to prevent grapes from "escaping" onto the floors.
A September 15 news story reported that a Louisiana woman has filed a lawsuit against a Whole Foods store – in Gretna. Donna Collins claims that she was in the store's produce section when she slipped and fell on some liquid that had not been properly cleaned up. Collins claims that Whole Foods failed to maintain the premises, periodically inspect and clean, and warn of a dangerous condition.
Of course, simply filing a slip-and-fall lawsuit does not make the defendant liable for damages; all allegations must be proven in court. But the companies who are being sued still have to spend time and money working with attorneys to defend themselves against these claims – instead of focusing their energies on their business.
Protect your Business Against Slip-and-Fall Lawsuits
This mat can save you a ton of money, time, and heartache.
The moral of the story? You should try to do everything you possibly can to avoid slip-and-fall incidents from occurring in the first place. That means implementing floor cleaning policies, placing floor mats in high-traffic and moisture-prone areas, and cleaning up all spills immediately. Because if just one person suffers what looks like a "minor" slip-and-fall, you could be facing a long and stressful road ahead if you're served with a lawsuit.
Written by Chris Martin
Visit Chris on Google+