If you own a business that has a television in it, chances are it will be tuned to the FIFA World Cup soccer tournament during the next few weeks. It's the quadrennial global sporting event which will draw billions of viewers between now and the championship match on July 13.
One note of caution: if there are soccer-loving customers or employees in your business whose eyes are trained on the TV, they may not be watching where they are going – and they may be more likely to slip on a wet, slick, or uneven floor. That's why you should make sure that you have the proper floor protection positioned in high traffic or moisture-prone areas.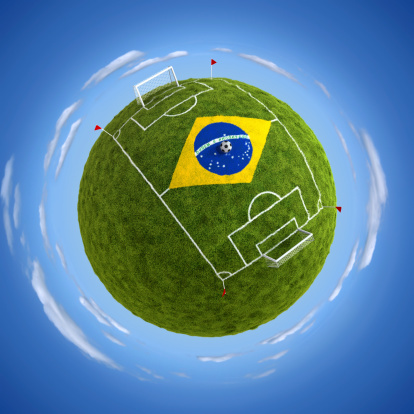 The world will converge on Brazil for the 20th World Cup.
With a nod to the 2014 World Cup, here is a little international flavor for you: the phrase "floor mats" translated into thirteen other languages that will be spoken among fans of the 32 teams competing in the event (rough phonetic translations are provided when possible).
1. Portuguese: esteiras do assoalho
Brazil is the host country of this year's World Cup. Businesses there will need lots of esteiras do assoalho to handle the sharp increase in foot traffic.
2. Russian: напольные коврики (kovriki)
Russia's capital city of Moscow is home to the historic Red Square. But since you don't want stains of any color on yourнапольные коврики, the mats need to be easy to clean.
3. German: fußmatten (foosmahten)
From Cologne to Dresden and from Hamburg to Munich, many workers in Germany enjoy the benefits of anti-fatigue fußmatten.
4. Dutch: vloermatten
The Netherlands features beautiful museums like the Van Gogh and Rembrandt House museums. Their floors are undoubtedly slick, so there should be plenty of vloermatten around inside them.
5. Italian: tappetini
In Italy, tappetini are placed inside most restaurants in case you happen to drop your pasta or spill your vino.
6. Serbian: патоснице (patosnice)
This is one of the main languages spoken in Bosnia and Herzegovina, whose capital city of Sarajevo once hosted the Winter Olympics. Rugged патоснице are needed inside entryways to ski lodges there to absorb the ice and snow from ski boots.
7. Croatian: tepisi
Croatia is home to some of the most breathtaking beaches in Europe. Businesses there have tepisi to protect floors from sand that is tracked in by beach goers.
8. Japanese: 床のマット (furoamatto)
There are over 13 million people who live in Japan's capital city of Tokyo. Businesses there need 床のマット to prevent slip-and-fall accidents – because if one person falls, many others could trip over him.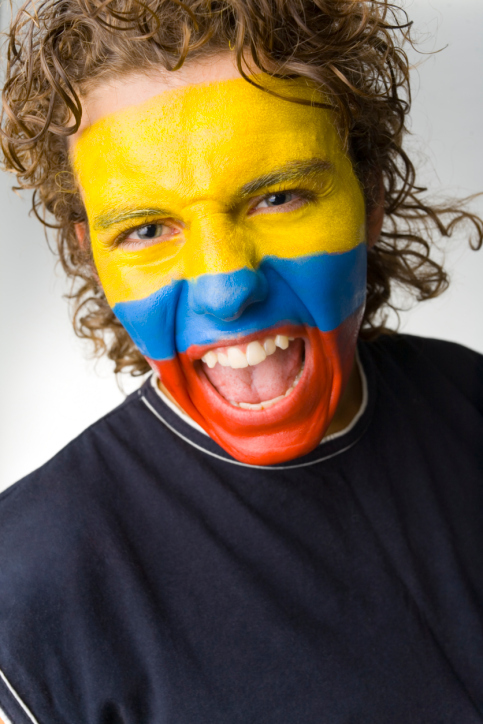 Soccer is an international sport – as evidenced by the wide variety of language spoken by soccer fans. (Even though some of that language may be inappropriate.)
9. Korean: 바닥 매트 (badag maeteu)
About 500,000 people attend South Korea's Cheongdo Bull Fighting Festival every year. Hopefully when they walk inside buildings, there are 바닥 매트 waiting to scrape their shoes clean.
10. Persian: تشک کف(no vocalized translation available)
This is the language spoken in Iran, home to some of the most beautiful mosques in the world. While prayer rugs cushion the bodies of worshipers, تشک کف protect the floors from dirt and moisture.
11. Arabic: مفارش (no vocalized translation available)
Arabic is spoken in Algeria, which is home to numerous World Heritage Sites like Tipaza, M'zab, and the Royal Mausoleum of Mauritania. These attractions have stood the test of time – much like high-quality مفارش will.
12. French: tapis de sol
Most residents of France, Switzerland, Belgium, Cameroon, and Cote D'Ivoire speak French. Together, these nations comprise over a half million square miles of land. That's a lot of area to cover with tapis de sol.
13. Spanish: esteras del piso
The most common language heard at this year's World Cup, Spanish is spoken in nine countries: Spain, Mexico, Honduras, Costa Rica, Colombia, Argentina, Uruguay, Chile, and Ecuador. And Ultimate Mats has nine choices of WaterHog esteras del piso so you can pick the right one for your business.
So whatever team you support in the 20th World Cup, make sure you protect your floors with one or more attractive, durable floor mats from Ultimate Mats. For information on the entire product line of Ultimate Mats products, visit our website today.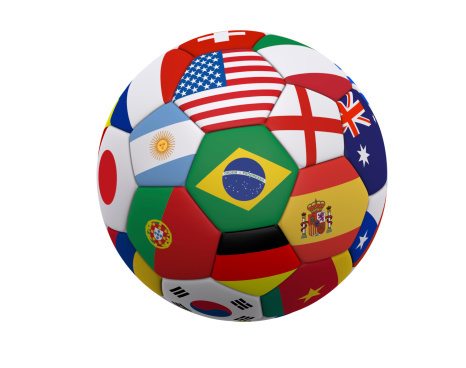 32 countries: one goal. The World Cup title.
Written by Chris Martin
Visit Chris on Google+